Wireless and solar applications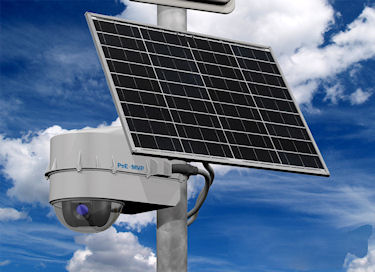 Solar Powered Megapixel IP Cameras
- Available with wireless, cellular and satellite communications
- Solar plants are sized for your application and geographic location.
- 30% Solar Tax Credit available for solar power plant purchases.
- We offer a complete line of solar cctv high performance ip camera systems including 20 Megapixel and Pan-Tilt-Zoom HDTV models.
Price range of Solar Powered IP Camera system with Wi-fi or cellular is $1500-$8500. Yes. we can integrate with your existing DVR and camera system. Depending on which cameras, accessories, wireless system type and size of solar plant which is determined by total power requirement for system devices and your geographic location.
Redline Megapixel IP cameras deliver exceptional image quality and are extremely efficient for solar cctv applications
- Solar Redline IP camera systems are highly efficient with just 3 watts of power required
- No additional housings, fans, heaters or mounts to purchase
- No additional software required...all software included at n/c
- No moving parts to fail
- Superior German engineering, optics and reliability
- Exceptional megapixel image quality, see Live Redline Cameras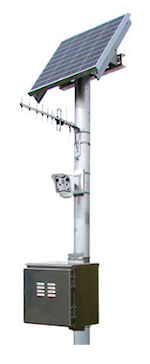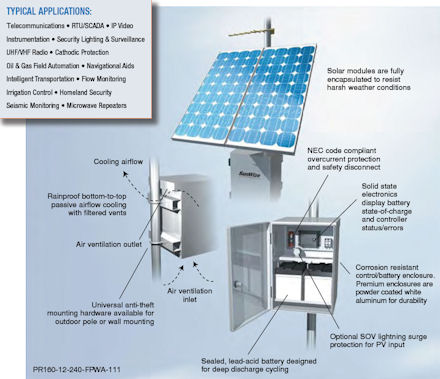 Cellular surveillance IP camera systems are perfect for projects that do not have hardwired or wireless high speed internet available.
Megapixel Cellcam
No Monthly Hosting or Software Fees
- Live Video Streams
- No additional housings, fans, heaters or mounts to purchase
- No additional software required...all software included at n/c
- No moving parts to fail
- Built in Linux based PC
- Built in DVR
- Up to 64GB SD flash memory on board camera
- Record directly to NAS, up to 176TB RAID 0, 1, 5, 6, 10
- Image/event processing at camera level, very low network load
- Power Over Ethernet (POE)
- 2 way audio and VoIP telephony
- Email and text messaging upon alarm/event
- Superior German Optics, Engineering and Reliability
- Brilliant Image Quality
Portable IP Video Cart
Our video-audio cart is for projects or situations that would benefit from live video and audio but do not have practical access to power or cabling infrastructure. The built in battery pack supplies many days of power before requiring recharging and with an optional solar plant will operate indefinitely.

Indoor and outdoor uses:
- Security and Surveillance
- Perimeter Protection
- Viewing of Manufacturing Process
- Construction Projects
- Remote Technical Support
Camera Choices:
- Megapixel IP
- HDTV Network
- Thermal Imaging
- Pan-Tilt-Zoom (35X optical zoom)
Options and Accessories:
- Solar Power Plant
- Lighting: Infra-red, White light, Hybrid
- 2-Way Audio with loud speakers
- PIR Motion Detection devices
- Laser Scan Detector (New!)
- License Plate Recognition
- Video Analytics
Wireless communications options:
- Point to Point
- Point to Multipoint
- Local Area Wireless Mesh
- Cellular networks: 3G, GSM, CDMA
Scout Model MS-W7 shown includes: 3 Megapixel dual lens, day/night IP video camera with 2 way audio, built in DVR, 16GB SD storage, VoIP telephony, email and text messaging upon alarm/event, PIR motion detector.
Rolls through a standard man door in the lowered position.
About Us
Redline Computer designs, manufactures and integrates high performance industrial grade IP video and audio systems for:
- Industrial control
- Production efficiency
- Facilities security and surveillance
- Construction sites
- Remote locations
Wireless: Point to Point and Mesh Networks
Long-Range Megapixel IP Video
Redline Computers designs and builds fully pre-configured high performance wireless point to point, point to multi-point, and layer-3 mesh networks (up to 25 miles distance) for challenging outdoor wireless applications.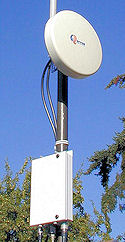 - Reliable, flexible, rugged weather proof design
- Site-specific custom engineering, build and install services
- Compatible with leading hi-res IP cameras and third-party radios
- High net bandwidth for multiple IP cameras or encoders
- Megapixel images and 2 way audio over long distances
- Military grade VPN and RSA security
- Single, dual or triple radio systems, 900MHz, 2.4GHz, 4.9GHz, 5.8GHz
- Each node, camera images, and location status overlaid on your Customer Portal map
- System health test and status upload performed every 15 minutes with email alerts
- Remote VPN services include system set up and support for radios, cameras, routers, NVR and NAS devices
Network Attached Storage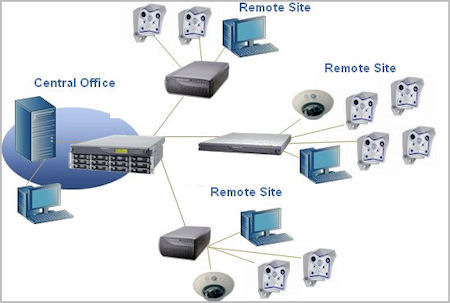 Storage for Redline Cameras. Network attached storage can support unlimited number of cameras to simplify the installation and ongoing management of the video system.
Each Snap Server tested in the Redline lab was able to simultaneously process continuous video streams from 80 Redline cameras recording at a 1.3 megapixel resolution at the highest frame rate.
Snap Servers come in a variety of sizes, so they can fit a variety of video surveillance storage needs, whether the installation is large or small. A fixed capacity desktop unit can support up to 6 cameras streaming megapixel resolution, while an expandable 19-inch rackmount system can scale to support 40 or more cameras.
Using Overland Snap Server with Redline IP Network Cameras
Built on the Linux-based GuardianOS Operating System, Overland Snap Servers provide NAS storage for file storage and sharing, or as part of a backup to disk solution - whether at a single site, or across multiple remote sites. Snap Servers are available in a variety of sizes, from 160GB desktop units to 19-inch rack mount systems that scale from 1TB to 176TB of raw storage capacity to fit a variety of video surveillance storage needs. Most Snap Servers also support multiple RAID data protection schemes, so critical video files remain safe and are available when they are needed. Snap Servers offer a cost effective and powerful network storage solution for your IP video surveillance. Snap Servers offer high performance throughput and provide right-sized storage from 160GB up to 176TB, to fit a variety of budgets and environments. Snap Servers integrate easily into your infrastructure offering: ease of use, rock solid reliability, RAID data protection, multi-unit management; and local backup and video file replication for added protection of your critical video files.