Structured Cabling Services
RedlinePC.com Structured Cabling Solutions For Multi-Site Companies
We design and build flexible cabling infrastructures nationwide - structured cabling systems that support multiple voice, data, video, security and multimedia systems regardless of their manufacturer. We will help you evaluate, design and install the optimum integrated system for your company. RedlinePC.comhas developed a distinct competency in executing on large scale national rollouts. We are a "one stop shop" for all your organization network infrastructure needs whether you have 10 locations or 10,000 locations. We use our custom developed Advantage© Project Management Tool to manage all aspects of the rollout and ensure consistent high quality installations at each location.
Copper Infrastructure Cabling Solutions.
Independently verified screened and unscreened data communication structured cabling solutions, providing ultimate performance and reliability for today's and tomorrows copper infrastructure requirements. Our Cat 5, Cat 5e, (Cat 6, Cat 6e and Cat 7) solutions will exceed TIA Cat 5e standards.
Fiber Optic Cabling Solutions: Singlemode; Multimode; Air Blown.
Conventional and blown fibre (fiber) cabling solutions that compliment the deployment of optical solutions deeper into the network delivering a future-proof infrastructure. Our fiber optic services include design, engineering, installation, termination and testing.
Specialty Cabling Solutions.
Copper and fibre (fiber) solutions for diverse and environmentally demanding applications such as Mass Transit, Marine, Automotive and Aerospace, that typically require adherence to strict performance criteria.
Low-voltage Cabling Solutions.
We can design and install solutions that include music / sound / paging systems and public address (PA) systems, as well as nurse call systems, CCTV and security systems, fire alarms and access control systems.
Green Data Centers.
Structured cabling and/or good cable management practices contribute to making green data centers.
We employ full-time BICSI Registered Communication Distribution Designers (RCDDs) to assist and optimize your company network design. RedlinePC.comNetworks team of technicians install and certify cables per ANSI / TIA / EIA standards to ensure consistent performance for installed cables across all your locations. We can source, install, de-install and maintain:
Cat 3 Cabling
Cat 6 Cabling
Coax Cabling
Cat 5 Cabling
Cat 6e Cabling
Cat 7 Cabling
Cat 5e Cabling
Fiber Optics Cabling
Some of the cabling industry brands we have installed include:
Work Area Outlets á Telecommunications Room
Hubble
Mod-Tap
Ortronics
Systimax
Telecommunications Room Cabinets and Equipment
B-Line
Hoffman
Wright-Line
Berk-Tek
Mohawk
Chatsworth (CPI)
Homaco
Copper and Fiber Cable
Comm-Scope
Damac
Southwest Data Products (SWDP)
Belden
Corning
Paging Systems
Bogen
Valcom
Stentofon
Aiphone
The Universal Structured Cabling Design
Today's cabling infrastructure standards are no longer practical. The Universal Structured Cabling solution started about ten years ago as the brainchild of Terry L. Golden, RCDD, Celergy's Senior VP of Engineering. It provides substantial efficiency and flexibility that is not available under today's conventional design standards. The Universal Structured Cabling Design eliminates the hassle, time and costs associated with various cable- related services, some of whom are listed below:
Reduces the need for costly moves, adds, and changes
Eliminates the need to re-cable, re-terminate, change out jack inserts
No requests for creating special patch cords
No need to convert voice cables to patch panels for data applications, or to convert data cables to voice blocks for voice applications
This exclusive "Universal Structured Cabling Design and Solution" will successfully enhance and interface to any current and future broadband / baseband multi-media network communications applications. It will allow for the ease and flexibility of all multi-media applications and configurations of any and all media types, from universal high-speed, multi-media, high-bandwidth applications to any current simplistic digital or analog port connection. The Universal Structured Cabling Design will facilitate all of your current and future voice, data, analog, video, audio, security and V-SAT applications and requirements. It will be custom designed for your organization to provide the highest amount of high-speed multi-media bandwidth capabilities that will exceed TIA 568B Category 6 Design Specifications and Standards, for future-proofing your investment. There is absolutely no other systems design solution available that will exceed your needs and provide significant cost savings in the manner we offer to you. For information on how Universal Structured Cabling Design can help your organization please email us.
Benefits of Structured Cabling
From an investment point of view structured cabling provides an exceptional ROI. A structured cabling system will outlive all other networking components and will require only minimal upgrades. According to International Engineering Consortium:
- Construction costs for the cabling of the voice, data, and BMS can be reduced by up to 30 percent when integrating the cabling and delivery methods.
- Moves, changes, rearrangements, and upgrades can be performed more cost-effectively, with a potential savings of 25 to 40 percent for material and labor when using an open-office cabling approach.
Additional advantages in using structured cabling: Consistency
- Same cables exist everywhere in the building.
Support of multi-vendor equipment
- You can mix and match vendors.
Simplifies moves adds and changes
- As your company grows and/or moves locations with structured cabling your network resources are always ready to go.
Simplifies troubleshooting
- With a wired structuring systems problems are easier to isolate and fix.
Support of future applications
- A Cat 5 or even Cat 6 compliant system will support future applications with little (if any) system upgrades.
About Structured Cabling Systems
Structured Cabling Systems are at the base of modern information network. Designed to accommodate quickly and cost effectively frequent moves adds and changes a structured cabling system can alleviate workflow disruptions and network downtime associated with enterprise restructuring.
According to International Engineering Consortium providing an internationally standardized structured cabling system and consolidating cable-delivery methods for all the systems can reduce initial construction costs for the cabling infrastructure of a modern intelligent building by up to 30 percent.
As Figure 1 indicates, typical costs for building operation and alterations over a 40-year life cycle far exceed the initial construction costs. Proper systems-integration planning to optimize the construction process can reduce these ongoing life cycle costs.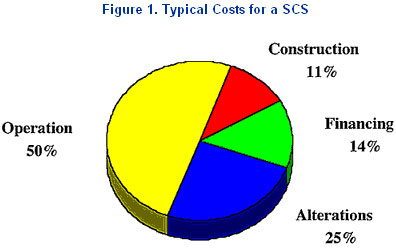 Building an IT infrastructure that is future ready is more important than ever. In today's competitive business world enterprises must be able to respond fast to changes that occur in the market place. For some firms this means modernizing their data center to meet strict new regulatory requirements while for other enterprises, being future-ready is all about shortening the development and deployment cycle on new services that are essential to retaining existing customers and acquiring new ones.
Redline Computer Networks will work with you to evaluate various types of integrated systems as well as design and install a structured cabling system that offers maximum benefits to your enterprise / organization.